You must have heard stories or seen videos about how a guy proposed. Sometimes it worked wonders or sometimes he got slapped. Well, here is the story of how I proposed (and did not get slapped)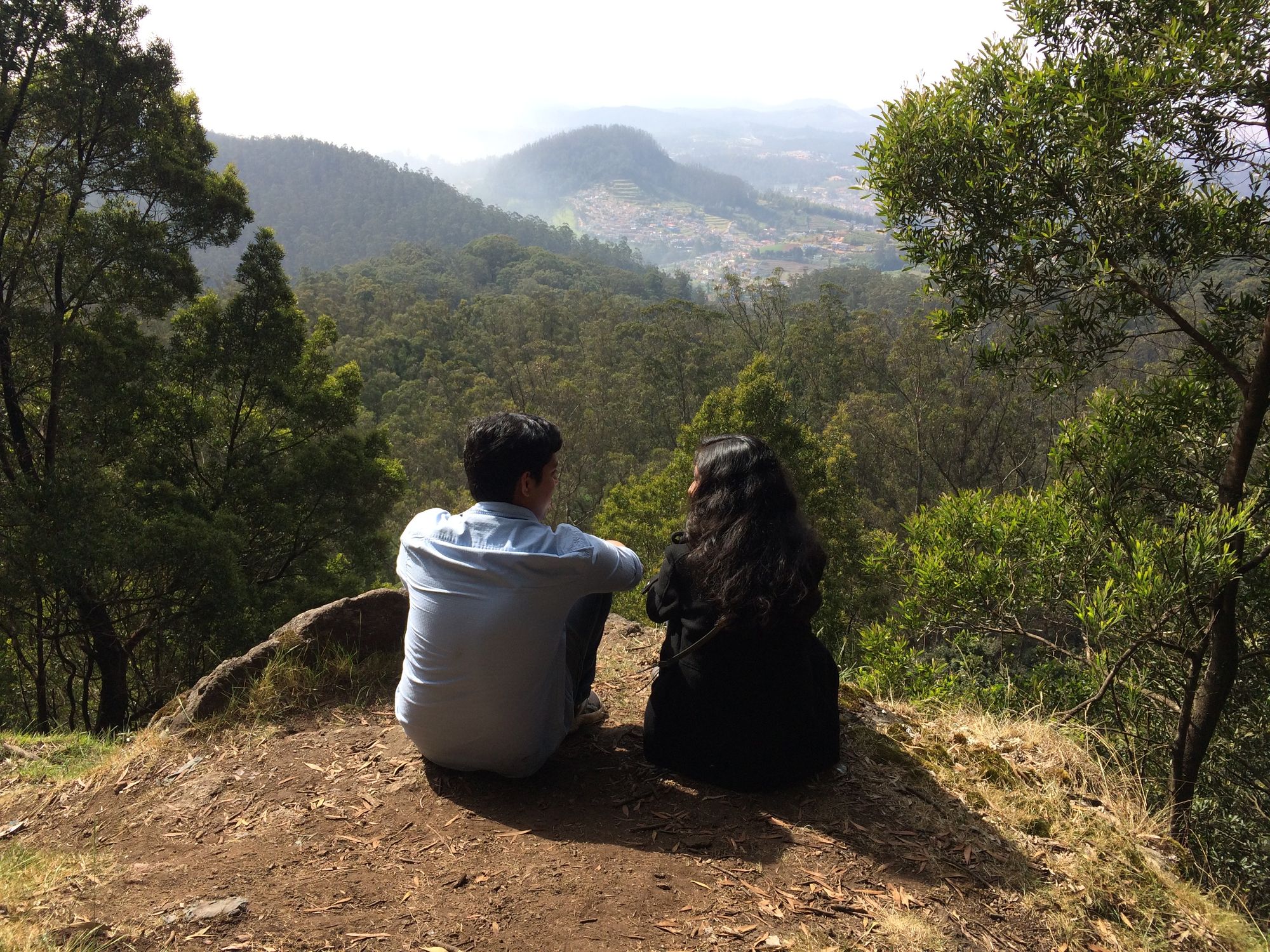 This story was originally published on Medium where I am no longer active. You can read the original article here.
You probably have heard of stories about various proposals. Someone proposed by faking airplane failure, someone proposed with a ring hidden in a necklace, someone proposed during a standup comedy or some even failed as well. Nonetheless, I always had a few ideas on how I was going to propose. Not because I am trying to be some pretentious person. But I am a firm believer in having possession of precious memories than having materialistic pleasures. Although, in Indian culture, it rarely makes sense to propose someone because most of the time in India it is telling parents about the relationship. If parents agree, then the wedding happens. It was a similar case for me as well. My partner, Kimaya, and I have been dating for more than 18 months, and we had decided to move to Bangalore from Mumbai to be in a live-in relationship for few months and then go for marriage. Since the live-in relationship is still considered a taboo in India, we had to tell our parents about it followed by an assurance of an impending marriage. So the proposal was pointless for us because everything sorted already. But I still wanted to do it for the memories, although logically it didn't make any sense. Being an adrenaline junkie, I had many wild ideas about proposals like — proposing while skydiving or snorkeling. However, the proposal is not about memories for an individual but both. Hence, I decided to settle down for a mountain-top something which both Kimaya and I like. And so it began…
After we moved to Bangalore in November, I made a plan to go to Ooty for New Year's Eve. Beautiful mountains of the Western Ghats surround Ooty; a perfect place for a proposal. After going through the Ooty's popular sites, I decided to propose her on either the Tiger Hill, Glamorgan Tea Estate, Ooty Lake or some random recluse mountain which I would have found while traveling the surrounding areas. It was not just about those few minutes of proposals; the entire experience of the trip also mattered. Hence, instead of going for a typical hotel in the city, I ended up booking a bit of an exotic hotel called Sherlock (which again, both of us like). Sherlock did not disappoint us. It was worth every penny. I highly recommend going to Sherlock if you ever plan to visit Ooty. Here are few of the photos of the place: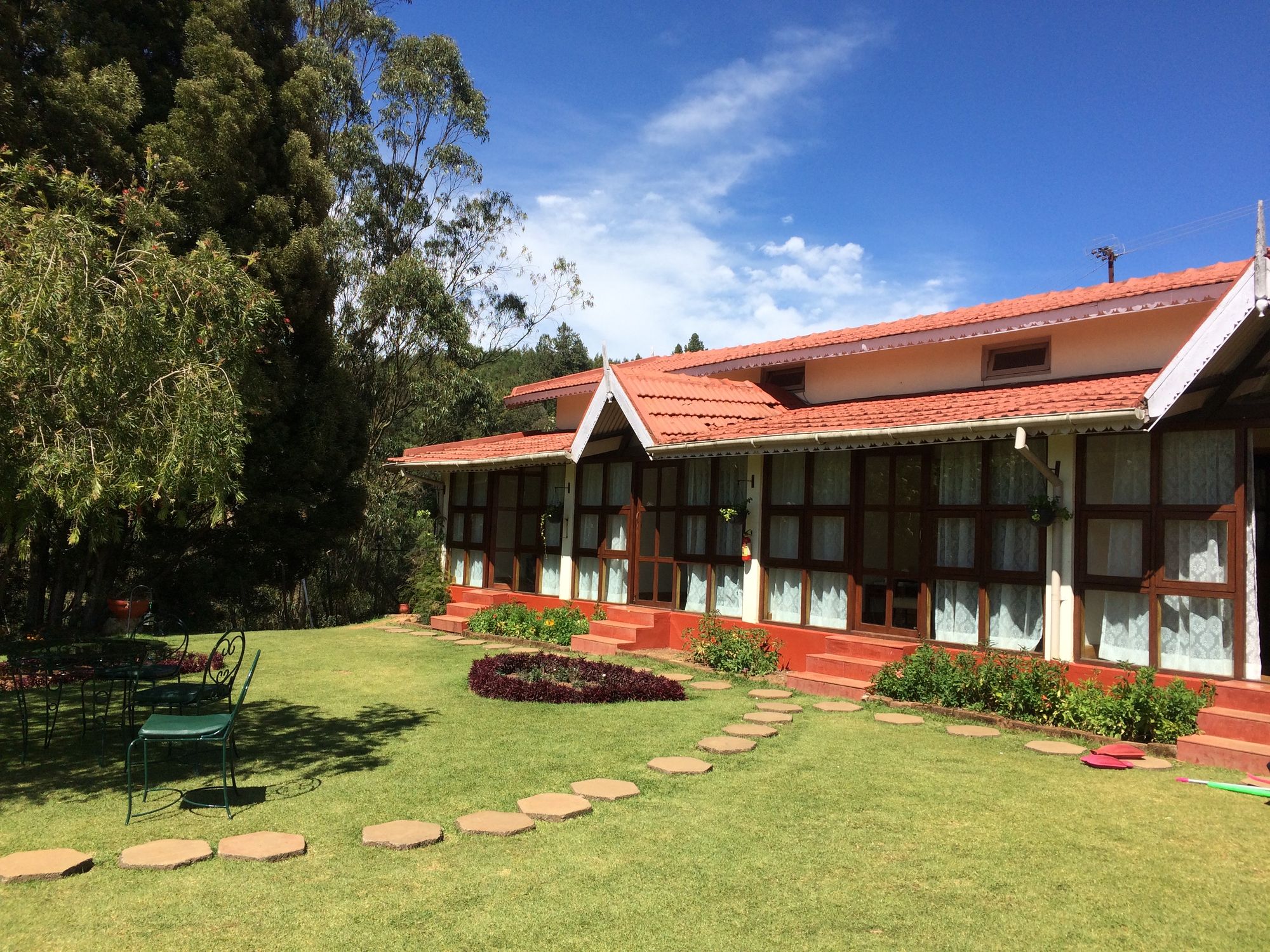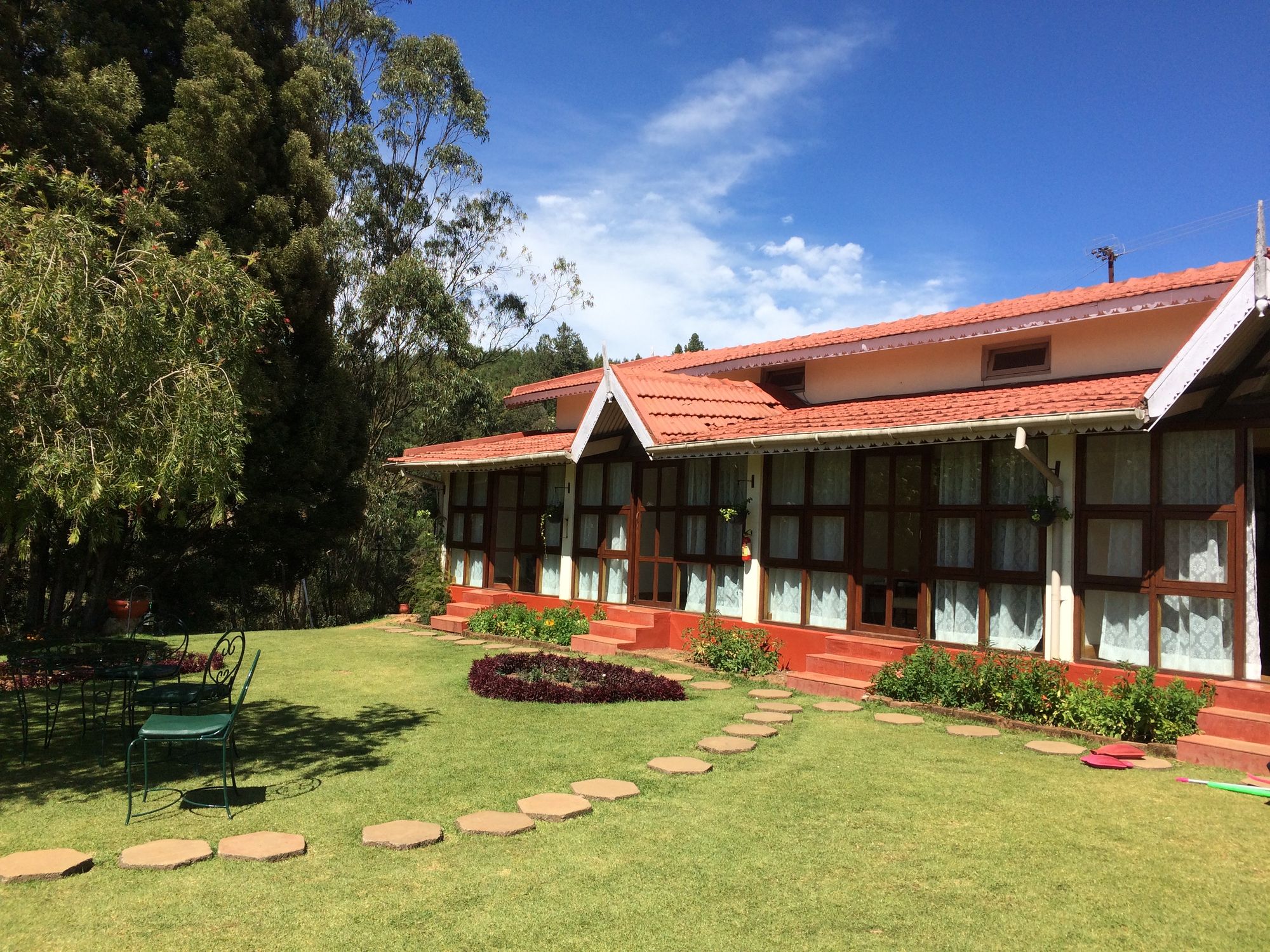 The best part of Sherlock was also that it was a couple of kilometers away from Tiger Hill. So it made my job easier. We arrived in the Ooty on the morning of 30th December 2017. Since there was no fixed place where I was going to propose, I decided to carry the ring with me almost all the time. After reaching Sherlock, we decided to go to Tiger Hill which was at a walkable distance from Sherlock.
We started our journey around 10 am to Tiger Hill. It has two dams, and people say that wild animals often come to drink water in the reservoirs of these damns; especially tigers hence the name 'Tiger Hill.' Considering it was extremely close to civilization, we ridiculed it to be true. Therefore, we decided to take a stroll there and head back for lunch at the hotel. However, my secret plan was to inspect the area, evaluate if there is a romantic place or not and based on that, propose. As we started walking towards Tiger Hill, we slowly moved towards the forest. Throughout the walk, we bathed in the fragrance of Nilgiri trees. One of the most peaceful afternoons walks we had had in a while! As we walked towards the hill, the entire valley started opening up, unfolding a breathtaking view of Ooty right in front of our eyes. It made me realize that I had chosen the right place for a memorable moment. Till the horizon ended, all we could see was the mountain range of Western Ghats lost in the mist and Ooty peeping right through that mist.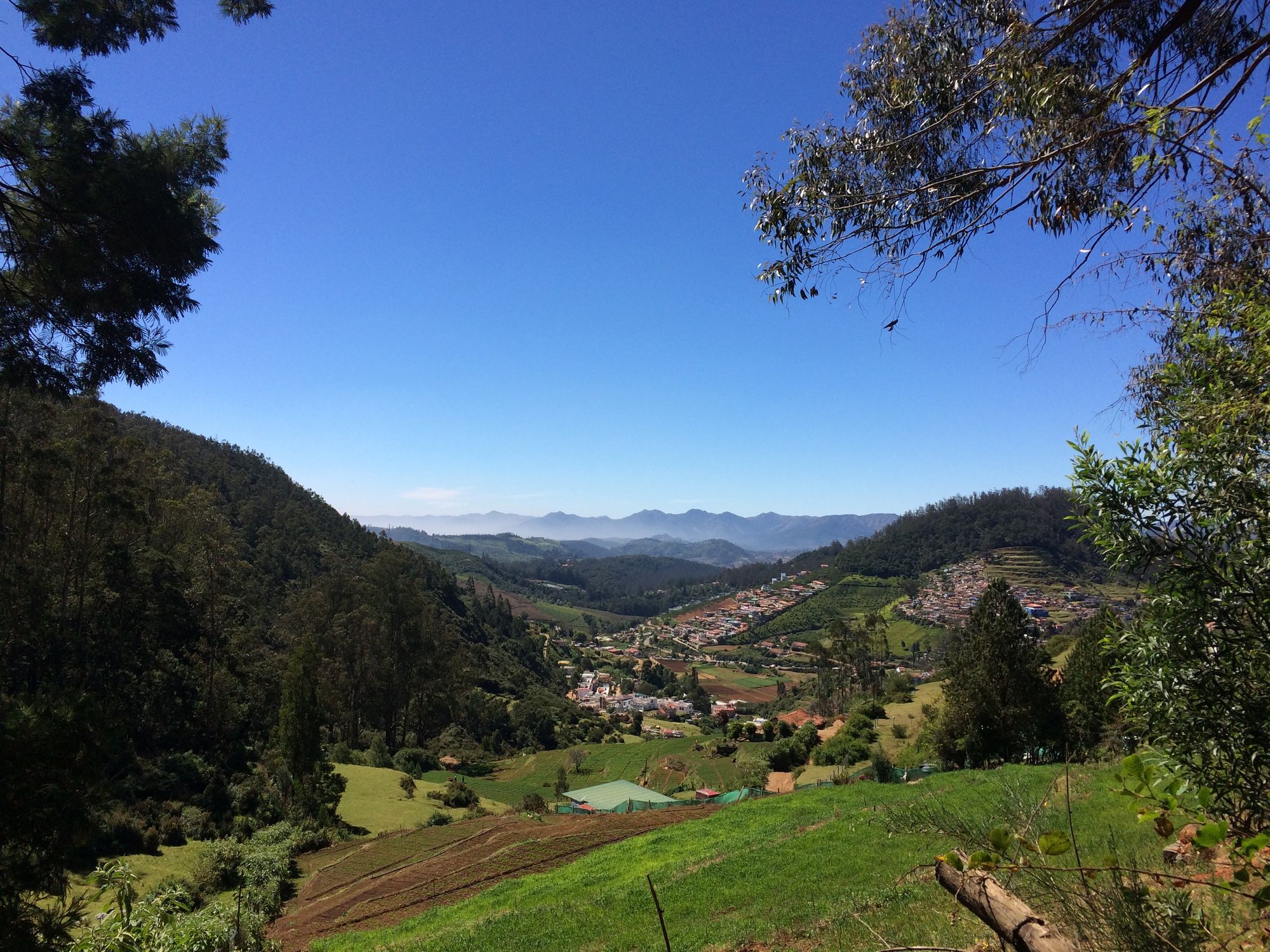 I was carrying a small backpack which had a water-bottle, napkins and obviously, the ring. While going towards the forest, Kimaya asked for water and tried opening my bag. I snapped at her. If she had found the ring, everything would have ruined. It ended up being a funny moment. The judgemental look which she gave me was something I will never forget. I am sure for a split second she must have called me crazy in her mind and reconsidered the whole relationship. She even glanced at the bag to check if I was hiding something. Thankfully she didn't find anything.
As the tar road ended, foot trail for Tiger Hill started, and we ended up at a place where the roads bifurcated. One was going to the Tiger Hill while another one was going inside the forest. Kimaya insisted that we should go into the forest rather than the lake. In my mind, I didn't want to do that. I wanted to go to Tiger Hill because I had seen the photos and I thought it was a right place to propose. But refusing to go forest would have further raised suspicion because I never shy away from exploring the wilderness. Before coming to Ooty, I had studied the geography of the place, and from my understanding, the other foot-trail should have led to Dodabetta. Although on Google Maps, there was no foot-trail visible. So we decided to go ahead. Since Dodabetta is the highest peak in Ooty, I was confident that there would be a place from which the entire valley will be visible on the way to the top where I could propose her. If I wouldn't have found the way, we could have always gone back from the same route, and I could have proposed her at Tiger Hill itself.
So our trek to Dodabetta peak began with her ballerina flats, my floaters and little water and food with us. Foot trail went through the rustling Nilgiris. The cool breeze of Ooty spread the fragrance of Nilgiri trees which mesmerized us. As the forest entangled, so did we — into each other. Suddenly, in a split of a second Kimaya saw a wild animal with golden fur crossing the foot trail. What was it? We were skeptical, but curiosity led the way. We started looking through the bushes and saw a beautiful golden deer which ran through the bushes as it saw us. Its beautiful fur was glittering in the sunshine. In no time, it was out of our sights. As we continued on our path, a glimpse of fear passed through our mind — if there is a deer, there must be a tiger as well. After all, it was called Tiger Hill for a reason. The thrill of exploring the wilderness kept us going. After some time, the trail was split into two yet again. When I tried to refer to Google Maps, both the trails were not visible. Also, both the paths were taking us away from the peak which was very surprising considering how close we were to Dobabetta. But what was more astonishing was the small temple which was present at the junction. It didn't have effigies of the traditional Indian gods. It was just a very peculiar arrangement of the stone; we still don't know what was it about. The closest it resembled to was the Shiv Linga.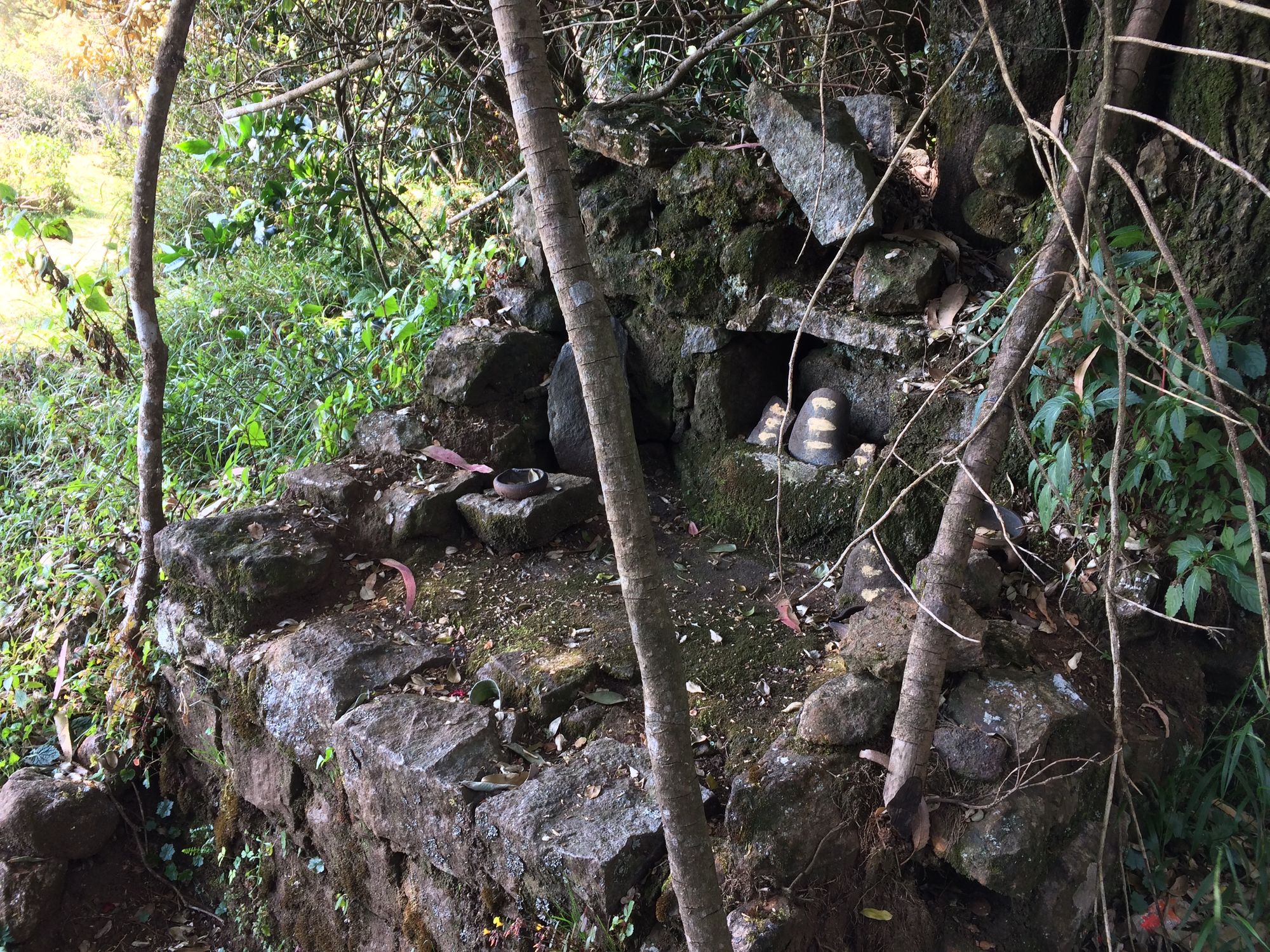 Nonetheless, we decided to move on. We took a route which was closer to Dodabetta, assuming that it will take a turn as we move ahead. As we marched forward, we realized we were going downhill, away from Dodabetta and more towards the dense forest. After walking for almost 20 mins, we decided to turn back. Since the other road which was available was going in the opposite direction, the only option left for us was to go back the way we came. We had very little food, both of us were disappointed and to some extend tired as well. As we turned back and started walking towards the temple, we heard a tiger roar from not so far away. It was a bone-chilling roar. Kimaya just stood there completely frozen in the afternoon heat. She asked me "Did you just hear that?". I was in a dilemma whether to yes or no. If I had said yes, I was sure until we reached the hotel, she would have made sure she toppled the entire world upside down in fear. I just pretended that I heard nothing and said, "What? There is nothing. You are just too tired nothing else." But deep down, my heart was pounding as though it was about to rip my rib cage apart. As we came nearer to the temple, we saw a couple appearing from the jungle. Can you believe it? It was a relief to us to know that we were not the only ones in the forest. They had come down from Dodabetta. Finally, we were on the right track. However, the funny part was both foot trails were not going to the Dodabetta. There was another foot trail behind the temple which was leading there. It was not visible at all. When I asked them, how they figure out the foot trail, they told us that they were using an app called Maps.me. Fortunately, I was getting some network connectivity there, so I downloaded the app as well. They were right; it was showing a foot trail behind the temple. Thanks to those foreigners, we didn't have to go back disappointed. But if you think about it, what were the odds of meeting them in the middle of a jungle! If we had spent a minute elsewhere, we would have missed them. As we walked ahead, the trail became more and more uphill and even more apparent. It became evident that we were on the right track.
As we started climbing up, I started looking for cliffs from where the whole of Ooty was visible. And I found one. Not far from the foot trail, there was a small cliff from where entire Ooty was visible along with the Western Ghats on the horizon. That was it! That was the spot where I was going to propose Kimaya. I started setting up my gear as Kimaya was struggling to reach there. She probably gave me a stink eye as I wasn't helping her. But I was too excited about what was going to happen. She reached in some time and sat next to the cliff. For her, me setting up my gears was not unusual. Finding a cliff and capturing the time-lapse of clouds and sunsets is something that I often do. She probably thought I was doing the same. Little did she know that I was setting up to shoot our moment. I wanted to keep both of us and valley in the frame. But it was a difficult task as there was very less space on the cliff. Finally, after 20 minutes of struggle, I found the place which had a decent frame as well.
That was it, time of reckoning. Although we were dating for almost two years, I still had my doubts if Kimaya will say yes or no. I went towards her. She was sitting there and peacefully enjoying the valley. I asked her to stand up, and I kneeled in front of her with the box of the ring in my hand. She figured what I was going to do — the first couple of minutes we were giggling at each other. Finally, I broke the silence said, "We went through many ups and downs together, but just like the trek which we finished just now, I promise to keep your life exciting and full of adventures. Will you marry me?" and I presented the ring to her and put it on her finger. In the moment of excitement, I doubt if she heard what I said. She didn't even say yes (as of now we are married, and she is still yet to say yes). She just accepted the ring.
Nonetheless, I stood up, kissed her and went towards the camera which was recording all of this. She was still looking at the ring, blushing and completely confused about how to react. I packed all my gear and sat beside her, soaking in the beauty of the valley.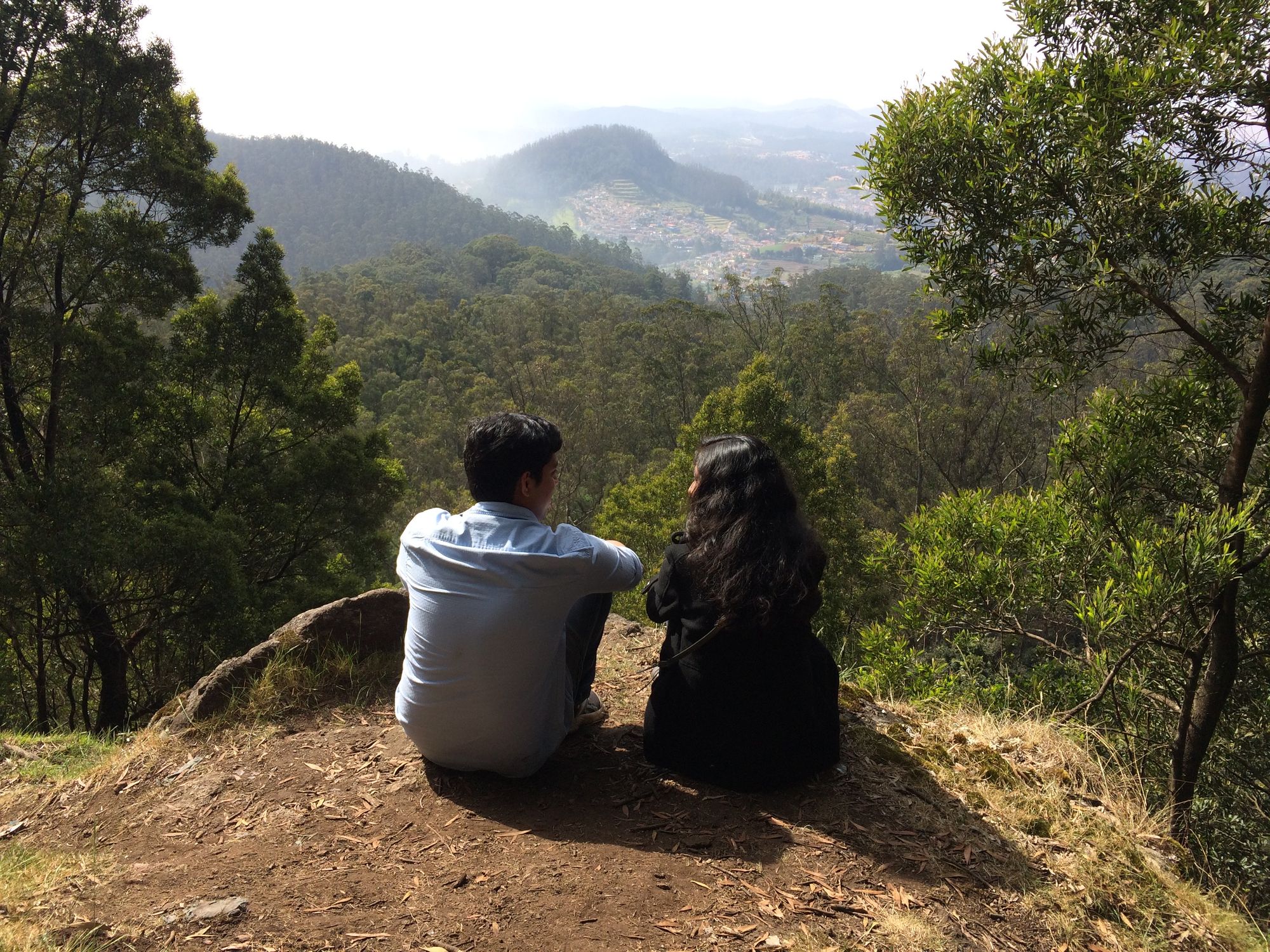 After spending almost half an hour, we decided to go back to the trail. Dobabetta peak was hardly 5 minutes away. After reaching Dodabetta, we realized that it was a proper tourist spot with over 200 tourists. There was a tar road for Dodabetta from Ooty. But no one experienced the thrill which we experienced in last 3 hours. By the time we reached there, it was almost 2 pm. Since we didn't have enough food, we had our lunch there. Later, we realized that most of the tourists came there by a private vehicle. There was no public transport available, and the main road was almost 5–6KM away. We had little energy to take a walk till there. Eventually, we decided to ask for a lift. Many people refused for various reasons like they didn't want to offer a ride to a couple, some had no space, or some didn't want to give a lift to strangers. Finally, we met a kind group of Tamil Women who agreed to provide us with a lift to the Tea Factory which was not far from the main road. They had a 27 Seater Bus. I sat next to the bus driver while she sat among all the ladies on the last row. In some 10 minutes, we reached the Tea Factory where we spent our next half an hour to get the tour of tea manufacturing. Finally, we found a rickshaw at Tea Factory which took us back to our hotel.
After reaching back to the hotel, it was almost sunset. We planned to roam around Ooty and have dinner, but we were too tired. Hence, we ended up spending time in the hotel itself. Enough adventure for the day!
Next day, we had unfinished business to attend to — Tiger Hill. We started slightly early in the morning, and since we already knew the road, it was not difficult for us to reach to the Tiger Hill. There are two lakes in the Tiger Hill. The condition of the first lake was quite sad, and it looks like some place from a horror movie.
Rest of the afternoon, we spent time roaming around Ooty. However, in the evening a delicious dinner was waiting for us. Kind people of Sherlock had hosted New Year Dinner for all the guests on one of their property. We had a delicious 6-course meal and entered the new year under stars with a bonfire to accompany us. We were entering the new year with a new beginning. Well, I think it is worth remembering.
When it comes to engagement ceremonies, Indian tradition is all about pride and honoring guests. It is often so tiring that the delight of engagement is lost. Events like marriage and engagement should be about the couple not about the relatives or people you have never met in years. I am glad that in our case it was the latter.
---